Long Read – What Mark Cavendish Has Been Through
ALMOST LEFT BEHIND BY THE SPORT HE LOVES, MARK CAVENDISH IS ENJOYING A MOST REMARKABLE COMEBACK AT THE 2021 TOUR.
---
---
The question seemed innocent enough, but the response from Mark Cavendish said it all about what he was feeling. He had just spent the day in the breakaway at the 2020 Gent-Wevelgem, rescheduled to October because of the pandemic. Gent, the so-called sprinter's classic, was not among Cav's remarkable list of wins, and joining the breakaway, which was eventually caught, was a surprise to many. Cav finished in 74th place, well behind winner Mads Pedersen, and he seemed to fold in on himself with exhaustion.
"Mark Cavendish, I can see that was a really hard day for you," a reporter for the Belgian TV network Sporza said. Cavendish paused, wiping his eyes.
"You're getting emotional," the reporter continued. "How was your day?"
Brushing away more tears, Cavendish replied, "That's perhaps the last race of my career."
"Do you really think that's your last race?" asked the reporter in surprise.
"Maybe, yeah," Cav responded.
The interview rocketed around the world of cycling, Mark Cavendish—a winner of stages in all three Grand Tours, former world champion, second all-time on the ranks of Tour de France stage winners behind only the incomparable Eddy Merckx—thought his career was over. And in the days that followed, no one suggested that he might be wrong. His long glide down from his once-lofty heights as the most feared sprinter in the sport seemed complete.
Cavendish tried to walk it back a few days later. "I don't want to stop," he said before Scheldeprijs. He admitted that he wasn't signed with a team for 2021, and at Gent, he had realised that he might not find one. He allowed that he might not ever win a race again, but that he wanted to try. "Even without winning I can mean something," he said.
An anonymous 143rd at Scheldeprijs, and then DNFs at his final two races of the year, made it feel like the end. Mark Cavendish was hanging up the wheels.
---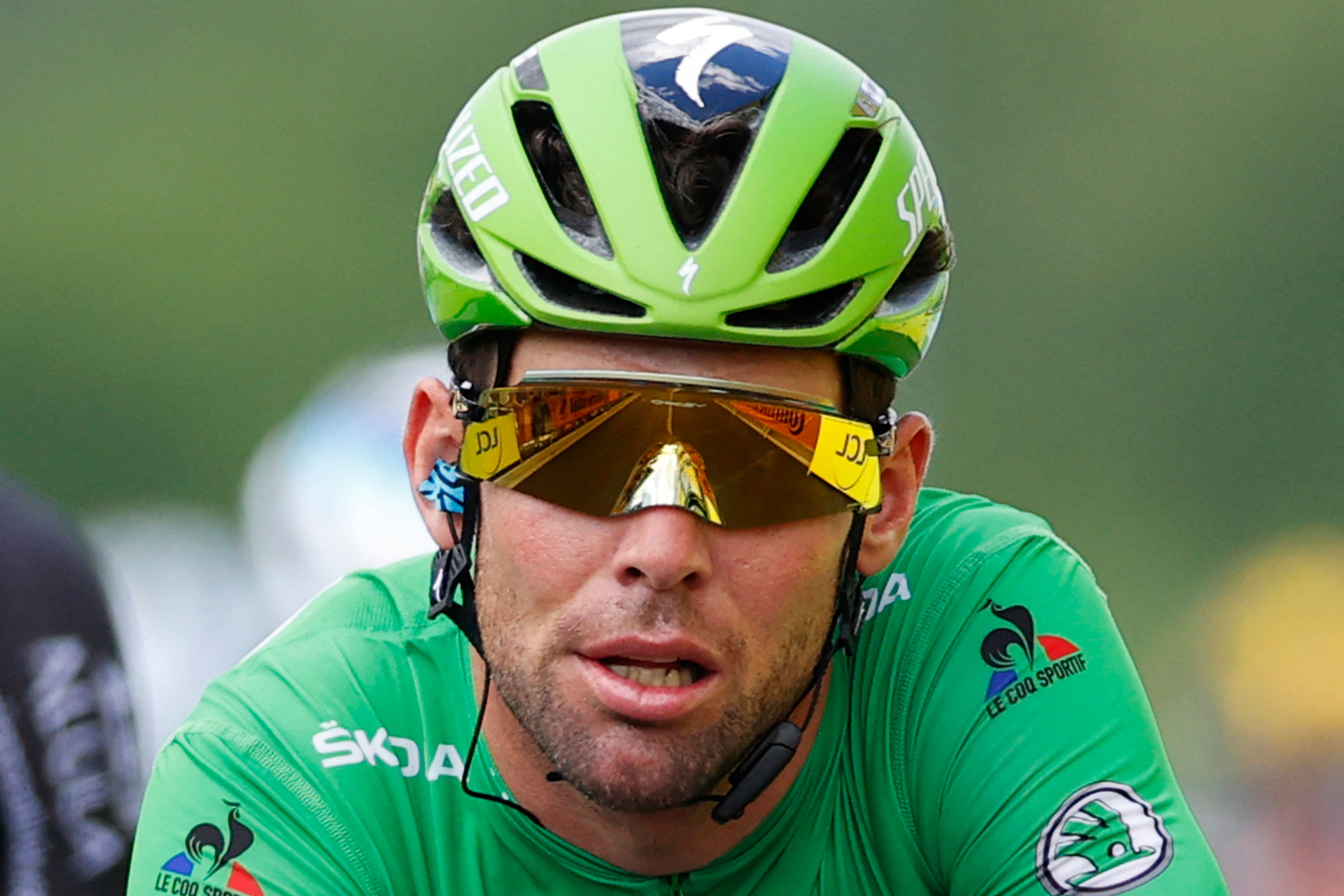 In truth, the end had been in sight for some time. At the time of his tearful Gent interview, Cavendish was already 35 years old, and sprinters age faster than almost any other kind of rider. Peter Sagan, 31, averaged more than 10 wins a season for most of the last decade, but has won only nine the last three seasons. André Greipel, 38, was Mr. Reliable in Grand Tours until 33, but has just one stage win since 2016. And Cavendish had 144 wins through 2016, when he won four Tour stages and jumped to second overall on the all-time wins list. Merckx's record seemed tantalisingly in reach.
And then Cavendish's career went into hibernation. At the end of 2016 and the beginning of 2017, he struggled with a kind of fatigue he'd never felt even when riding in three-week Grand Tours. "I went from winning races to not being able to walk up stairs," he said this year. The cause: mononucleosis from Epstein-Barr virus.
EBV is one of the most common viruses in humans, infecting 95 percent of us at some point in our lives, and often has no or mild symptoms. But in others, it leads to debilitating illness, mostly in the form of extreme fatigue. There is no treatment except for symptoms, and Cavendish tried to train and race through it for almost two seasons.
As for the Tour—the record, which had loomed so promisingly, and the race itself instead became a source of frustration and pain. There was the awful, controversial crash in 2017, when he tangled with Sagan in a sprint finish. In 2018, in the Alps, he rode alone to the finish on Stage 11, knowing he'd missed the time cut but vowing to cross the line anyway. That August, he took a break from the sport to try to finally recover.
To be fair, Ryder was right: on paper, at least, Cavendish hadn't done much to suggest he deserved a spot
It didn't work. He was weighed down by the illness and the lingering pain from a broken shoulder blade, suffered in that 2017 Tour crash. His relationship with Doug Ryder, his team boss at Dimension Data, grew strained, then broke entirely when Ryder kept him off the team's 2019 Tour roster against the wishes of director Rolf Aldag. To be fair, Ryder was right: on paper, at least, Cavendish hadn't done much to suggest he deserved a spot. In late October of 2019, Cav signed with Bahrain-McLaren for 2020.
As if all that wasn't enough of a headwind, he suffered emotional health issues too. In April 2020, just as the pandemic had shut down the sport and the world, Cavendish revealed to the Times of London that in addition to the injuries and illnesses that had sidelined his career, he'd suffered from clinical depression, diagnosed right around the time in 2018 that Epstein-Barr forced him to step off the bike.
In August 2020, unsurprisingly, he was left off Bahrain's Tour team and admitted he wasn't ready. "It's hard to say" if Cavendish would ever race another Tour, said team manager Rod Ellingworth, who had a long history with Cav at Team Sky and British Cycling. "If you've spent two years off the bike having lots of problems, you need a consistent period of time to get yourself back to a decent level."
Left unsaid was that Cav, at 35, didn't have the luxury of time.
By that fall, even Ellingworth was hedging on whether there was a future at all. While allowing that the pandemic had delayed signings and discussions were ongoing,Ellingworth pointed out that "Mark is getting to the age where he is probably thinking about post-cycling, and he has not had the successful season we would have hoped for."
Then came the tearful Gent interview, and it seemed final. Cav would still be around the sport, of course—autograph signings, special guest appearances, maybe something with youth cycling. But Merckx's record would remain forever beyond reach.
---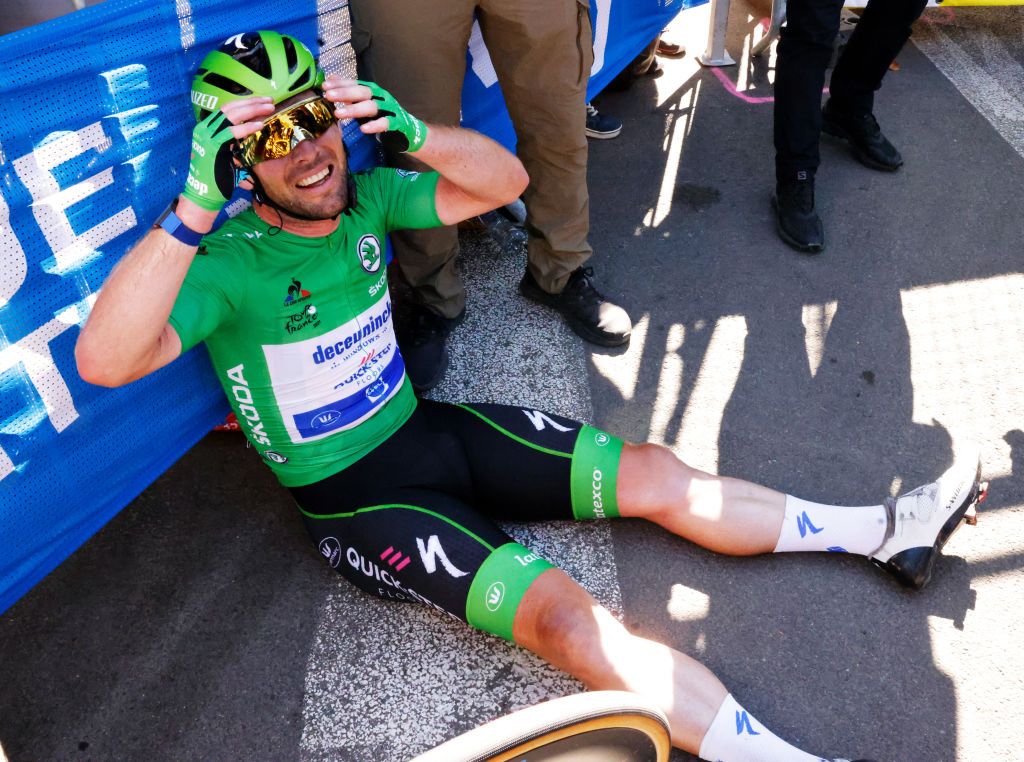 You can tell how a race is going for Mark Cavendish by his interviews. When he's not going well, when he's getting boxed in during sprints, when he's gapped on the climbs and struggling, then it's Surly Cav—or at least was for years. He responded to even softball questions with clipped, one-word answers, if you got answers at all. He was combative with the press, and even with teammates and staff. "I was a 20-year-old boy who wanted to fight the world," he said on Friday about his past attitude, and in truth, it continued well past 20.
But when the leadout train is rolling, when Cav surfs the wheels and makes those perfect split-second decisions about when to time his jump and shoves his handlebars through some impossibly small gap to edge his front tire just ahead of the other riders, you see that magnetic smile open up, and you know it's Happy Cav.
And right now, after four stage wins at the 2021 Tour, he's never been happier.
He's ebullient, effusive in his praise of teammates like leadout-man extraordinaire Michael Mørkøv. He's reflective, allowing that he'd been responsible for some of his tensions with the media, but had grown up. "It maybe took time away for me to get that chip off my shoulder," he said after his Stage 13 win on Friday.
And he's gracious even when baited. When asked Friday about gruff comments from Eddy Merckx, whose record he has chased for years, Cavendish not only declined to take a dig, he struck a rare note for gender equity in the sport. "I don't think I can ever be compared to Eddy Merckx, the greatest male road cyclist of all time," he said.
And why shouldn't he be gracious? For Cavendish, the 2021 Tour de France is found money. Ellingworth was right: the pandemic had delayed signings. But it wasn't until December 5 of last year that Cavendish's 2021 season was guaranteed, when it was announced he was returning to the Deceuninck-Quick Step team, where he'd spent some of his most productive years.
And right now, after four stage wins at the 2021 Tour, he's never been happier.
At the time, everyone said all the right things. DQS manager Patrick Lefevere spoke of the "beautiful memories" from Cav's first stint with the team, and the way the sprinter always "showed amazing panache." For his part, Cavendish hit all the right "just happy to be here" notes by saying he couldn't wait to work again with the staff and riders, to be "back in the Wolfpack," as the team is known.
Behind the scenes, it was quite a bit more business-like. Lefevere had initially seemed unsure of a reunion. "My heart says yes but my mind says no," he said in October. And it turned out that Cavendish had signed for a tiny salary, his pay guaranteed by a sponsor.
It turned out to be an exceptionally smart deal by Lefevere. Last spring, Cavendish notched his first podium finishes in two years, including a third-place at Scheldeprijs, the race that launched his career so many years ago. Then he had a breakthrough run of four stage wins at April's Tour of Turkey, his first since February of 2018.
But his path to the Tour was still unlikely. DQS already had Sam Bennett, arguably the sport's best pure field sprinter, who won two stages and the green jersey in the 2020 Tour. On paper, there was no need for Cavendish.
It's still not clear exactly what was the real cause behind the turn of events that brought Cavendish to the start in Brest, but the sequence was this: in early June, Bennett aggravated an old knee injury and caused him to miss the Baloise Belgium Tour. Cavendish, slotted in as his replacement, and just like in the finishing straight of a field sprint, the smallest gap was all he needed.
With Bennett's knee issues, there was speculation Cavendish could replace him in the roster. But then he scored a surprise win on Stage 5 of the Belgium Tour, and the rumours hit overdrive. Cavendish was cagey about riding the Tour. "Not at this salary," he reportedly told Lefevere just before his stage win, and Lefevere told reporters he thought there was "no plan B" if Bennett couldn't race.
But Bennett's health wasn't the only consideration. His contract with DQS ends this year, and in pro cycling's game of roster musical chairs, Bennett was linked in May to a return to Bora-Hansgrohe, which itself is reportedly losing Sagan to Total Energies next season.
If there's one thing Lefevere hates, it's to be spurned by a rider, and just days later, it was confirmed: Cav was in, Bennett was out. The reported cause was that Bennett's injury had pushed back his training, but Lefevere expressed doubts that Bennett was actually hurt. By the time the Tour started, he was openly feuding with Bennett in the press, saying his sprinter had ghosted his efforts to communicate and threatening to "bench" him for the rest of the season if he didn't show respect.
---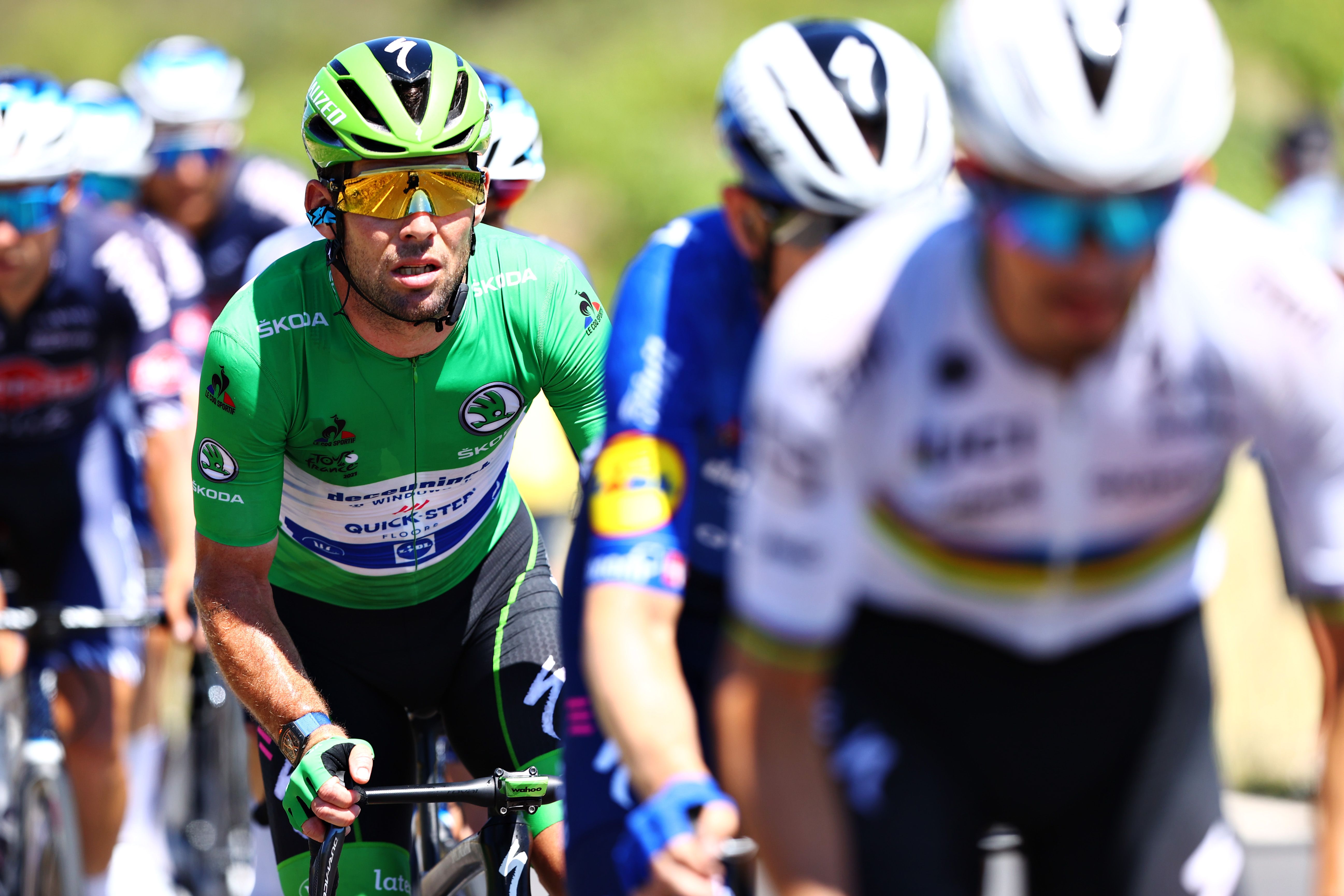 At the Tour, Cavendish paid the fracas little mind. The questions for him weren't about Bennett; they were about his return to the race and his quest, however improbable, for the record. Then, on Stage 4, with Mørkøv distanced and DQS's normally clinical leadout in disarray, Cavendish hopped onto the Alpecin train, squeezed through a tiny gap, and crossed the line with an expression of pure shock exploding across his face.
Sprinting is about pure speed, about nerves, about getting the leadout just right. But it's also about confidence, the belief that your decisions about when to jump, and where, are absolutely correct. In sprinting, confidence is as good as any leadout, and Cavendish's was surging.
"Don't say the name!" he shouted at reporters after a second win, on Stage 6, when they asked him about Merckx's record. "If that was my first stage or my 32nd, I've just won a stage of the Tour. That's what people work their whole lives for." But the wins kept coming. Even as other sprinters dropped out or crashed out, Cav stayed upright and out of trouble. Stage 10 to Valence, with a textbook leadout this time after fighting to barely finish inside the time cut the day before, yielded his third stage win, and 33rd career. He was knocking on Merckx's door. By then, his confidence had transformed into a near-euphoric state of flow.
On Stage 11, a desperately hard day with two ascents of Mont Ventoux, Cavendish seemed untroubled. Near the top of the fabled Giant of Provence, he took a moment to doff his helmet in respect at the memorial to Tom Simpson, the path-breaking English rider who collapsed and died on its slopes in 1967 from heart failure brought on by amphetamines.
The next day, a short (by Tour standards) straightforward stage that was a likely sprint finish, Cavendish and DQS opted instead for an active rest day of sorts, declining to chase the breakaway even though a win in Nimes would have put a neat, hat-trick symmetry on his victories in Fougères and Châteauroux, all towns where he'd won before.
It was a bold move. There were only a few possible sprint stages left in the race. And since Cavendish wasn't originally slated to race a Grand Tour, his training this year wasn't optimised around a three-week race. Crashes aside, Cavendish risks getting time-cut in the Pyrenees.
In sprinting, confidence is as good as any leadout, and Cavendish's was surging.
So on Stage 13, it was back to business for DQS, keeping a short leash on the early move to line Cav up for a shot at 34—and it almost didn't happen. Tim Declercq, the hulking Belgian rouleur who drags the peloton along for dozens of kilometres at a time, went down hard in a massive crash with 62km to go and was slow getting up (three riders were hurt so bad they dropped out; Declercq finished dead last, almost 22 minutes down).
The domino effect of losing Declercq forced World Champion Julian Alaphilippe to work far earlier than normal, and with numbers dwindling, DQS took the risky strategy of shutting off its leadout train inside 10km to, hoping to regroup for the finish.
Under the red kite signalling a kilometre to go, Cav was safely tucked in, but slid back slightly in a curve and lost Mørkøv's wheel to rival sprinter Nacer Bouhanni. "I thought I had punctured," Cavendish said afterward.
Then he did the Cav thing, the thing that he does better than almost anyone else ever has: with 450 meters to go, Cav smoothly arced around Bouhanni and Michael Matthews in traffic, slotted himself firmly back on Mørkøv, and fired his final kick to the line. Mørkøv's leadout was so virtuoso perfect he finished second.
Cavendish said that he was happy just to have another stage win. "The moment I crossed the line the record wasn't on my mind," he said. He said it was "one of my hardest wins" pointing to the hot, windy conditions and the length (220km) of the stage, the second-longest of this Tour. He credited his teammates who "rode their hearts out to deliver me in a perfect position." All true, if standard sports-cliché stuff.
But the record is very much on his mind, whether he admits it or not. "I wish all the teammates I have had since 2008 were here to share this with me," he said graciously, and that's not the kind of thing you say when your legacy isn't front and centre in your mind. He was also reflective and honest: "My team delivers every single time and that puts the pressure on me," he said. "Sometimes that can be hard, especially if you don't feel great."
Mark Cavendish will feel not great in the days to come. After Saturday's lumpy entrée, Sunday is the first big Pyreneean stage, and three more follow it. But if he can get through, if he can survive the pace and make the time cut, there are two more chances left to take the record solely for his own. He has a massive lead in the green jersey competition; if he makes it to Paris, his second victory there is almost assured.
He says he wants to keep racing, that his comeback is not over. But whatever happens, his legacy is secure, and he is arguably the greatest field sprinter of all time. He's playing with house money now. Some day, maybe soon, Mark Cavendish's career will actually come to an end. And there will be tears, albeit more joyful ones than last fall. But this is Mark Cavendish's YOLO Tour, and for now, he's not thinking about the end, about having delayed it, about rewriting his legacy, or maybe even about what comes next. Maybe for one last time, Cavendish is just enjoying the ride.
READ MORE ON: long reads Mark Cavendish tour de france 2021